Bookkeeping
I can help you get organized so you can focus on building/growing your business
Bookkeeping is a key element to any successful business.
If you require assistance with a specific area(s) in your record keeping or are you looking to set up a complete set of books, I can help!  I can help you get organized so you can focus on building/growing your business, instead of trying to keep the books straight.  I will customize a schedule that best suits you and your bookkeeping needs.
When you operate a small business, keeping track of your bottom line is critical, and when the economy is tight, searching through various bookkeeping services or software solutions to find the right fit for your business needs can mean the difference between going under, just getting by, or thriving.
QuickBooks from Intuit is a #1 best-seller 
It helps get and keep the books under control, saving time and money, and allows you to access accounts, reports and data when and where you need to.
Positive word of mouth is vital for every business, and with over two decades of experience helping businesses both small and large succeed, more than four million small business owners already know they can rely on Intuit products and services to help them grow, and they are sharing their success stories with others.
Bookkeeping services and software solutions come in many different flavors, providing a range of capabilities and sometimes confusing sets of features. Intuit customers have the unique advantage of having a whole range of other essential small business tools that are designed by Intuit to specifically work with QuickBooks. Intuit's other leading small business products like GoPayment, QuickBooks Payroll, and Intuit Merchant Services integrate seamlessly with QuickBooks, so when you accept credit card payments, issue paychecks to employees, or clear payments from your website customers, you'll know that QuickBooks is keeping track of it all. But as with anything new, it's often best to start with baby-steps.
So… think of QuickBooks as the easy to use bookkeeping tool that turns even business novices into bookkeeping services professionals. No need to dread issuing invoices, or reconciling the books, you don't even need to worry about tax time; when QuickBooks helps you keep your business in order, everything will be right where you need it, when you need it.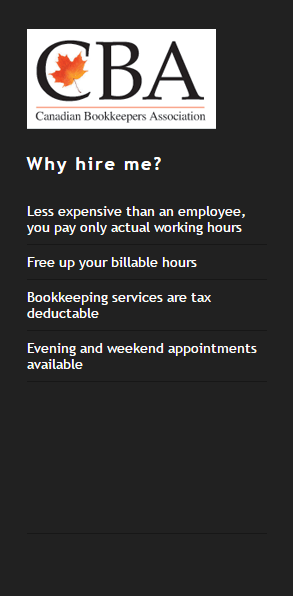 Self Employment Bookkeeping Solutions! MADE EASY!
---
Judy does our books every month. without fail she get the job done.. year in and year out. Could not imagine running out company without her.